Graceful Dame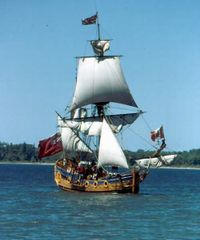 Name
Graceful Dame
Type
Ketch
Displacement
65 tons
Burthen
47 26⁄94 tons
Length
54' (LOA)
Beam
15' 6"
Height
74'
Draught
6' 6"
Depth in Hold
7'
Sail Plan
1,895 sf ketch-rigged
Complement
12
Armament
4× 2# cannons
4× 4# cannons
Boats & Landing Craft Carried
1×Cockboat

Graceful Dame of Kingston, master John Hayden
TL4 Ketch
Cargo: 3600cf (102.8dT)
Weapons: 4× (max: 8) 2pdr cannons (added 4× 4pdr cannons, 22 Jan 1725)
Dimensions
Length Overall (LOA): 54'
Length of Keel: 37' 0"
Breadth: 15' 6"
Depth in Hold: 7' 0"
Draught Aft: 6' 6"
Burthen: 47 26⁄94 tons (~63 tons deadweight)
3e Statistics
From the GURPS forums
Subassemblies: Body with Average lines +6, one 74' Main Mast +2, one 41' Mizzenmast +0.
Powertrain: 1,895 sf of Barquentine-Rigged Cloth Sails.
Occupancy: 12 bunks. Minimum crew is 1 driver + 2 sailors.
Cargo: 3,600 cf
Armor: 3/5W overall
Weaponry: 6x 2-pdr cannons (Falcons) [Body:L,R] (100 shots each).
Body: Navigation instruments, 12 bunks, 360 man-days provisions. On Deck: Primitive controls, one cockboat.
Statistics:

Size: 53'x7'x74' Payload: 40.3 tons Lwt.: 72 tons
Volume: 6,500 cf. Maint.: 104 hours Price: $37,172

HT: 9. HPs: 3135 Body, 142 Mainmast, 43 Mizzenmast.
wSpeed: 14.4 wAccel: 0.5 wDecel: 0.5 wMR: 0.05 wSR: 3
Draft: 7'. Flotation Rating: 169 tons.
Design Notes:
Structure is Medium, with Standard materials. Waterproofed. Armor is DR 5 Standard Wood. The volume of the armor is figured into the design, as per the rules on p. VEii5. The ship's volume was taken as 100 cf per displacement ton. The main mast height was given in the historical information, the mizzenmast height was determined from a photo of the ship. Design sail area was 2,975 sf; the real-world value is shown. Design draft was 4.2'; the real-world value is shown. Although the actual ship was built during TL7, the designers actually used TL4 techniques, and this design uses TL4 figures for cost and weight.
4e Statistics
| | | | | | | | | | | | | | | |
| --- | --- | --- | --- | --- | --- | --- | --- | --- | --- | --- | --- | --- | --- | --- |
| Vehicle | ST/HP | Hnd/SR | Rigging | MUA | HT | Move | LWt. | Load | SM | Occ. | DR | Range | Cost | Locations |
| Graceful Dame (47 ton ketch) | 131? | -2/3 | Full | 45° | 12c | .25/5 | 72.0T | 40.3T | +6 | 12+18 | 3 | ∞ | £290 | 2M |
Crew
Gallery
Trivia