Category:Knight City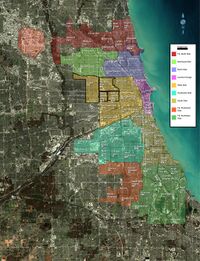 | | |
| --- | --- |
| Country | United States |
| State | [Illinois] |
| Counties | [Cook], [DuPage] |
Government
• Type
Mayor–council
• Body
Knight City Council
• Mayor
?
• City Clerk
?
• City Treas.
?
Area
• City
234.53 sq mi
(607.44 km2)
• Land
227.73 sq mi
(589.82 km2)
• Water
6.80 sq mi
(17.62 km2)
Population
• City
2,746,388
• Rank
3rd in the US
1st in [Illinois]
• Density
12,059.84/sq mi
(4,656.33/km2)
• Metro
9,618,502 (3rd)
References
Behind the Scenes
Fictionalized Chicago, IL; some sub-regions will also be re-skinned.
Probably set in Illionois, United States, but we should avoid naming or referring directly to the state, country, or their leadership (by name), until/unless it becomes inconvenient (or specifically relevant to the story). The campaign should be focused on the local Knight City area anyway.
The above should probably also hold true of other nations outside where feasible.
Other major cities will be referenced occasionally by stand-in names (the way DC typically does).
"Gotham"-like crime/corruption level ("In a town this bent, who's there to rat to anyway?")
Chicago-like history with the mob
This category currently contains no pages or media.