Geoffrey de Saloman
Actor: Travis Fimmel, Ref: Vikings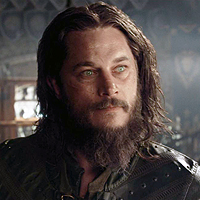 | | |
| --- | --- |
| Name | Geoffrey de Saloman |
| Origin | French? |
| Role | Adventurer |
| Post | NA |
| Status | NPC (Living) |

Concept
Rogueish Immortal Swordsman & Hedge-Wizard
Details
Known
Freemason
Swordsman
Bard?
Conducts electricity?
Can perform magic
Enjoys, knowledgeable about books
Very familiar with the Caribbean, and sailing
Behind-the-Scenes
Timeline:
752: Mortal birth of Solomon, son of Goeffrey (the Saxon) in the Saxony region of modern Germany.
775: Solomon's parents killed during Charlemagne's takeover of Saxony; Solomon "killed" for the first time, and later fled to France.
778: Solomon re-settled in modern Germany.
800: Solomon dueled the Norseman, when a Viking raid swept through northern Germany; both were greatly injured, but not killed.
993: Solomon left Germany after the death of his second wife and wandered Europe.
1011: Solomon spent a few years at a monastery learning to read and write; introduced to magic.
1064: Solomon met up with the Norman, an Immortal of roughly equivalent "age," and became friends.
1066: Solomon and the Norman both participated in the Battle of Hastings, side by side.
1097: Solomon finally hunted down and killed the Norseman, after a long rivalry.
1098: Solomon and the Norman wandered around modern France, having adventures; became a Troubador.
1189: Solomon and the Norman had been averse to the idea of a "religious war," but finally got on-board, and joined the Third Crusade to retake Jerusalem.
1192: During the attempted retaking of Jerusalem, the Norman is killed in a duel with the Semite, a much-older Immortal; Solomon was unable to assist, and was traumatized by the loss of his friend of 128 years.
1193: Solomon joined the Poor Fellow Soldiers of Christ and the Temple of Solomon (Templars).
1228: Solomon accepted Emperor Frederick II's invitation to his court.
1229: Solomon became Frederick II's chief-of-security after his coronation as King of Jerusalem.
1236: Solomon was imprisoned for [incident] for 78 years (1314) before managing to escape; it took several years to fully recover from the physical neglect, and he developed an acute fear of imprisonment and a dislike for gov't-types.
1348: In light of the spreading "Black Plague," Solomon decided it was a good time to leave Europe for a pilgrimage to the Holy Lands, for the first time since his imprisonment there.
1370: Solomon returned to his anscestral home in Saxony; joined French mercenaries against the English.
1397: Solomon attended Heidelburg University.
1415: Solomon fought for the French at the Battle of Agincourt.
1539: Passing through S.Eastern Europe (in the Transylvania region), Solomon ran afoul of vampires for the first time; spent many months slaying many Cappadocians and Tzcimisces, and developed a dislike of vampires, in general.
1602: Solomon settled in London, England; befriended William Shakespeare, and occasionally acted in his plays (drawing upon his Troubador experience).
1616: Solomon returned to settle in Germany after Shakespeare's death; discovered (or was discovered by) the Rosicrucians, and joined their order, learning much of magic and alchemy.
1626: Solomon in France, caught dueling after it was outlawed; fled France with a "pirate" company, active on the Barbary Coast and the Carribean.
1711: Solomon joined the Freemasons (still has the ring).
Traits
The Quickening; Spellcasting; Expert Seaman; Storyteller; Master Swordsman; Fast-Healer; Freemason Connections
Notes